5 February, 2021
Broadway: The Theatre That Plays On Forever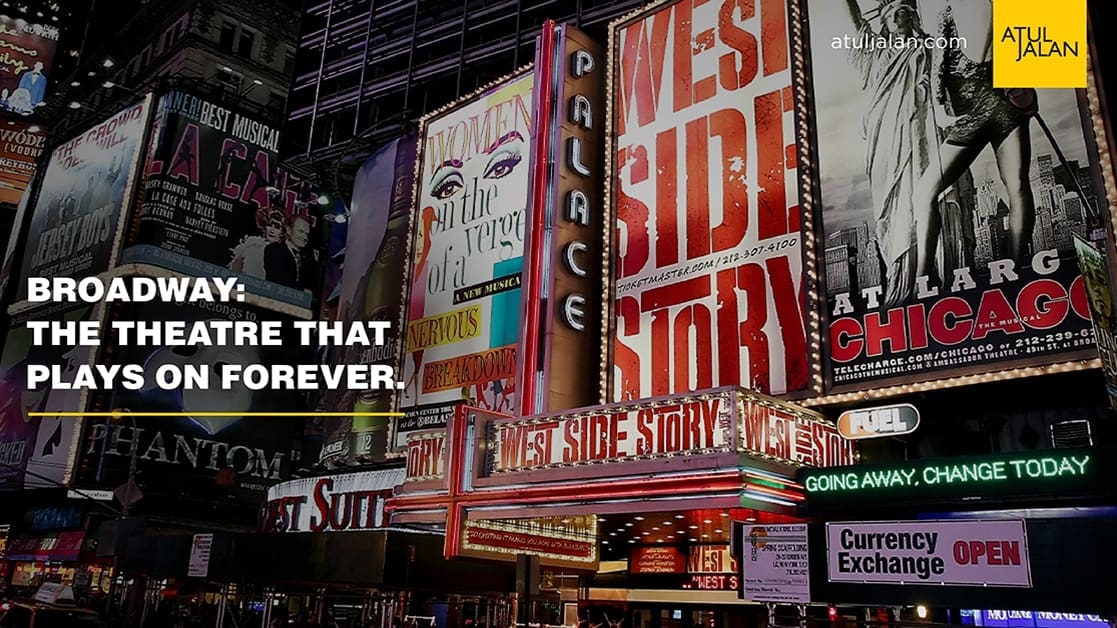 "I regard the theatre as the greatest of all art forms, the most immediate way in which a human being can share with another the sense of what it is to be a human being."


― Oscar Wilde
While the Manhattan skyline defines New York, and the Big Ben is symbolic of London, the real tug at the heartstrings of these cities comes from the lofty firmament of its theatre districts – Broadway and West End. When I am in either city I strive to make time to see at least one show. This piece is on Broadway; Part 2 will be on the West End.
As I saunter down Broadway I am reminded by a guidebook that this pathway existed long before the Europeans arrived; a passage created by American Indians. It starts at Bowling Green in the southern tip, runs the entire north-south length of Manhattan and spills over into the Bronx. Of course, the section that made Broadway famous is in the vicinity of Times Square, between 42nd and 53rd Streets, the home of theatre in America.
I have seen a few marquee productions on Broadway and am completely enamoured of the scale and presentation of the musicals. The set designs, costumes, music, dancing and performances are all spectacular and jaw-dropping (in Miss Saigon, they land a close to real Huey Helicopter on stage). Phantom of the Opera, Les Misérables, Miss Saigon, Chicago, and The Lion King stand out from amongst the long-running musicals I have been privileged to see.
Even more spectacular than the shows are the theatres themselves: The Beaux-Arts styled 'The Lyceum' or Art Nouveau 'New Amsterdam' or the neo-Georgian 'Belasco' or baroque interiors of 'The Palace' or the neo-classical 'Music Box' are architectural masterpieces that have been awarded landmark statuses by the City. There are 41 theatres on Broadway, all 500-plus seaters equipped with well-appointed lobby bars, banistered staircases, majestic stages, and alcoves and textured walls nurturing theatre memorabilia from the century just gone by.
Broadway theatre is not just a sub-culture of the locals or an indulgent pastime of intellectuals, it is a big-business money-spinner. In the 2017-18 season, 13.79 million people attended and the productions raked-in $1.7 billion.