6 November, 2020
Finland: The Legend of Santa Claus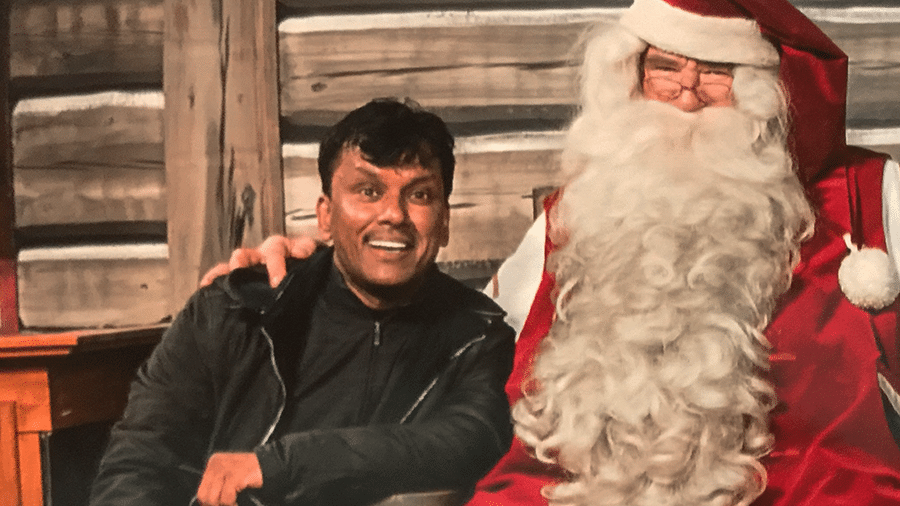 We flew to Rovaniemi from Helsinki in early September. Going to Lapland and beholding the Northern Lights had been on our bucket-list for years. The warmth of the afternoon sun and the autumnal brilliance of the foliage welcomed us into a fabled setting. But more about all that in Finland Part 2.
The next day, we trekked the couple of kilometres to the Santa Claus village (located just inside the Arctic Circle) and we all cheered like boisterous children when we crossed the 66.5 degree imaginary line! How this village became the official residence of Santa Claus is quite some story.
Santa Claus is a distillation of legends told to children in the northern countries to bring on some cheer in the dark days of winter. Santa Claus, Saint Nicholas, Father Christmas, Sinterklaas, and Joulupukki are all one and the same myth told in various languages. While the legend is ascribed to St. Nicholas, a bishop who lived in modern-day Turkey in the 4th Century, it was Clement Moore's (1822) poem, popularly called The Night Before Christmas, which made it a household affair of modern magnitude. Illustrator, Thomas Nast, is credited for drawing the jolly image of Santa.
While many children believed the myth that Santa lived in the North Pole, the lack of grass for the reindeer to feed upon made the story unconvincing. A bit of Scandinavian savoir-faire appended a secret location to the legend: Santa's workshop was in Korvatunturi in Finnish Lapland.
Eleanor Roosevelt's visit in 1950 to monitor post-war reconstruction in Rovaniemi had already done a lot for local tourism. The Roosevelt Cottage still stands there as a symbol of American-Finnish friendship, and promotes Santa's myth globally.
A modern economic resuscitation plan coupled with some marketing brilliance brought Santa's office into Rovaniemi. The Santa Park and Joulukka Secret Forest were established for children to interact with the secretive elves. The Santa Claus Main Post Office receives thousands of letters every day; and you can even get a reply (with an Arctic Circle postmark) for a fee.
The address:
Santa Claus
Santa Claus' Main Post Office
Tähtikuja1
96930 Arctic Circle
Finland