1 January, 2021
Georgia: God's Private Reserve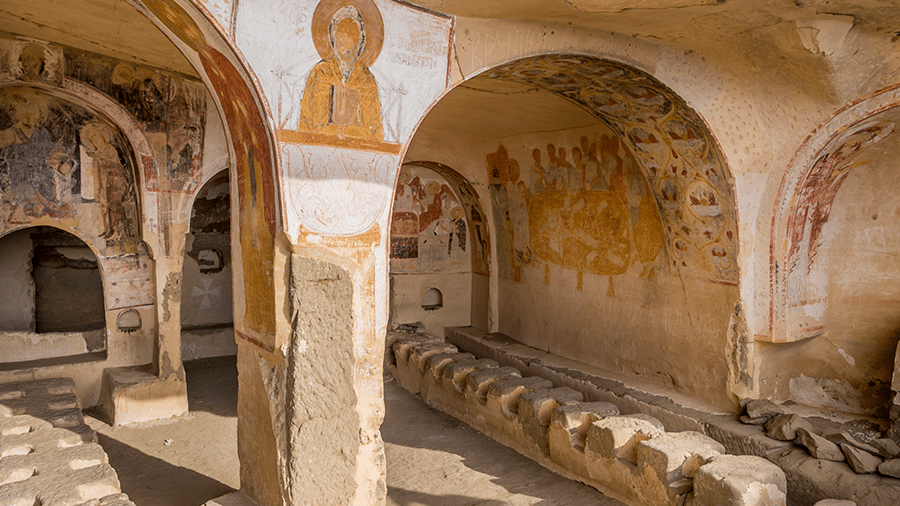 "When God was distributing portions of the world to all the peoples of the earth, the Georgians were having a party and doing some serious drinking. As a result they arrived late and were told by God that all the land had already been distributed. When they replied that they were late only because they had been lifting their glasses in praise of Him, God was pleased and gave the Georgians that part of earth he had been reserving for himself."

– R. Rosen, The Georgian Republic
The Kakheti wine-growing region is testament to the natural beauty of Georgia. Abutting the region are semi-desert landscapes which come in all shades of brown and red dotted with grapevines, maple trees and wildflowers breaking the colour palette.
The town of Sighnaghi is reminiscent of many a Tuscan town with cobbled streets, fresh-painted houses, orthodox churches and vineyards nearby. All the roofs are in hues of red and the town stands on a hillside backdropped by white-topped mountains. The Museum of History and Ethnography is a delight and Nikala Pirosmani's paintings come alive on its walls.
The nearby Bodbe Monastery (Convent) is a secluded nunnery lodged serenely in the surrounding hillside. St. Nino, responsible for spreading Christianity in Georgia, is buried here, and her tomb attracts visitors aplenty.
While God may have given his own sanctuary to the Georgians the sheer number of monasteries pockmarking the hillsides keeps God's presence billowing in the wind.
The David Gareja Monastery, located in southern Kakheti, along the Azerbaijan border,  is actually a brace of monasteries, Udabano and Lavra, which in turn represent 21 hermitages in the area.
Around the 6th century AD, when Christianity gripped Eurasia, the Mesopotamians sent St. David Garejeli, (one of the famed brigade of 13 Assyrian Fathers) to Georgia to spread the good word. These cave monasteries were carved into the hillsides, with frescoes and rock-hewn art adorning chapels, libraries, and common areas. More than a few hundred monks resided here, and soon these monasteries became an important centre of theology. The sheer number of relics, paintings, and manuscripts speak of their devotion, artistry and eloquence.