20 November, 2020
Finland: Viewing the Northern Lights on a Lappish Night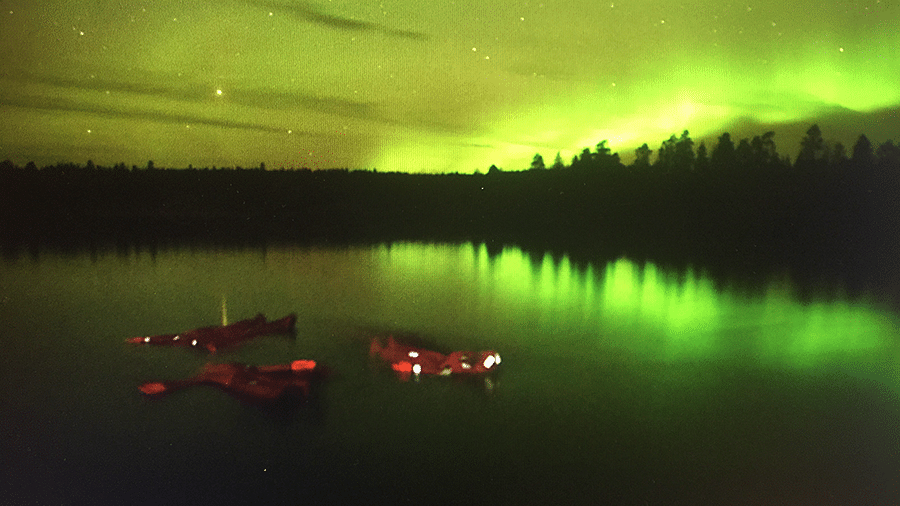 Rovaniemi is both the capital and gateway to Finnish Lapland. While we had come to see the Northern Lights, we discovered great diversions that we could delve into. The first day we spent enjoying the environs in and around the Santa Claus village, located right within the Arctic Circle (see Finland Part1).
The lappish forests have a magical quality to them. In winter they become a fantasy land. No wonder that a plethora of myths and legends have sprung from that well of beauty, silence, eeriness and colour-scape.
There are plenty of husky farms nearby and dog-sledding is great fun – reminded me of Jack London's The Call of the Wild, though that was set in Alaska! We rafted down a river banked by glorious hidden waterfalls, visited a reindeer farm, and experienced the childlike thrill of tobogganing down a slope.
To view the northern lights we drove up to Lake Unari and checked into a log cabin. It's a solid structure, built with Finnish lumber – but it had all the trappings of comfort: warm, well-lit, and cosy. Though the northern lights can be seen approximately on 100 in nights year; in September the viewings are a bit luck-dependant. Nonetheless, we fortified ourselves with shots of whisky and a joint – after all we were planning to go into an icy lake and view the spectacle from there! We rented survival suits (a legacy of the Second World War), which are must to get into the freezing waters.
Our luck held and we were treated to a spectacular display that night. The Aurora Borealis is surreal and beyond easy description. To me the green swathes of diaphanous light appeared to be celestial fairies dancing in contortions akin to tornado swirls, only much more gentle and serene.
Northern Lights are called Guovssahasat in the local Sami language. While many legends surround the Aurora, in reality they are charged particles emitted from solar flares that penetrate the earth's magnetic shield and collide with atoms and molecules in the atmosphere. These collisions cause sparks of light, or photons, which string together to form the colourful displays.
Trivia: the term Aurora Borealis (Northern Dawn) was coined by Galileo Galilei!